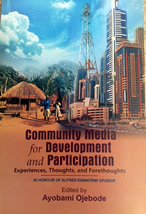 Community Media for Development and Participation: Experiences, Thoughts and Forethoughts
-- Twenty-three chapters from five countries -- Cyprus, Ghana, Kenya, Malaysia, Nigeria
-- The first compendium of its sort on community communication (especially in Africa)
-- 422+ pages
-- Edited by: Ayobami Ojebode, PhD, Acting Head, Department of Communication and Language Arts, University of Ibadan, Nigeria
-- Published by John Archers Publishers, Nigeria
-- Cover price: N2,000 or USD20 (excluding postage)
-- For copies, call: Mrs M. O. Babajide: +2348035650781, +2348070523955 or email: ayo.ojebode@gmail.com
About the Book
A collection of debate and report articles on community media and community communication, this book presents experiences, thoughts and forethoughts from Cyprus, Ghana, Kenya, Malaysia and Nigeria. In the first section of the book are found studies of the practice and impact of community media, especially community radio, in Ghanaian and Kenyan communities. The second section presents thoughts on how community media might better serve communities, democracy and development. The third section of the book, that is the forethoughts, focuses on the foreseen or preferred structure, role, funding and management of community radio in Nigeria – a country that is yet to have community radio. In that rather oracular section, contributors look into the future quite counterfactually, imagining and painting the envisioned character of community radio when the Nigerian government finally permits its establishment. The studies and discussions in this book potentially advance the conversations on the role of community media in promoting democracy and development as they affirm, modify or confute some of the known assumptions on the subject.
About the Editor
Ayobami Ojebode holds a PhD in Development Communication from the University of Ibadan, Nigeria, where he is currently Senior Lecturer and Acting Head, Department of Communication and Language Arts. His research interest is communication, democracy and development. He has published academic articles in reputable journals, and popular/social commentaries in local and international outlets such as the Radio Netherlands Worldwide where he pioneered the African Going Dutch series. He was at different times a visiting researcher/fellow at the University of Oxford, UK; Pennsylvania State University, USA; University of Leiden, The Netherlands, and at the Netherlands Institute for Advanced Studies in the Humanities and Social Sciences.
TABLE OF CONTENTS
PART ONE

Chapter one

Ayobami Ojebode

Community media, democracy and development in Africa: thirty years after Homa Bay

Chapter two

Alex Quarmyne & Wilna Quarmyne

Mapping the Terrains of Community Radio Practice in Africa

Chapter three

Holger Briel

The Ethics of Oral History: A Cyprus Story

Chapter four

Murtada Busair Ahmad

Community Media and Nigerians in Malaysia: The Paradoxical Tendency of Fragmentation in Globalization

Chapter five

Ayobami Ojebode & Kamoru A. Salaudeen

"The Media are of the Devil" –The Karikasa Community and their Disdain for the Media

Chapter six

Olusola Oyero, Segun Joshua, and Remi Aduradola

Radio And Community Partnership For Mediation And Peace-Building In Africa

Chapter seven

Kitche Magak, Susan M. Kilonzo and Jack Ogembo

Indigenous Language FM Stations as Community Development Media: the Case of Radio Lake Victoria, Kenya

PART TWO

Chapter eight

Chima Onwukwe
and Uzoma Okugo

Towards effective development of indigenous languages in Nigeria: community media as the way forward.

Chapter nine

Henry C. Duru; Chibuike J. Nwosu & Timothy Onyejelem

Heterogeneity of communal interests…practice of community media

Chapter ten

John Galadima & Patience O. Onekutu

The challenge of sustainable funding of rural community media in Nigeria

Chapter eleven

Julius-Adeoye 'Rantimi Jays

Community Radio: Instrument for Good Governance

Chapter twelve

Jude Terna Kur & Bernard Bem Melladu

Community radio in a multicultural volatile Nigerian society: fears and promises

Chapter thirteen

Babatunde R. Ojebuyi

Media Bias, Ethics, and Normative Limitations: Implications for Survival of Community Radio in Nigeria

Chapter fourteen

Omowale Adelabu

Integrating New Media With Community Media For Development: Challenges And Opportunities

Chapter fifteen

Patience Onekutu

Community media and development: measuring results

PART THREE

Chapter Sixteen

Tunde Adegbola & Obasanjo Oyedele

Demystifying radio for community use

Chapter seventeen

A.R.A Aderinoye and J. O. Ojuade

Community Media and Talking Drum as an Indigenous System of Communication in the 21st Century Africa

Chapter eighteen

Ezekiel S. Asemah

The Potentials of Community Radio as a Tool for Conflict Management: a focus on Plateau State, Nigeria

Chapter nineteen

Kenneth Asor Tsebee

Independent national electoral commission and problems of voter education: the imperative of community radio

Chapter twenty

Louisa B. Andah

Optimising Volunteerism in the Upcoming Community Radio Sub-sector

Chapter twenty-one

Michael A. Kombol and John O. Ogi

Proposed strategies for funding community radio in Nigeria

Chapter twenty-two

Ngozi D. Morah
and OladokunOmojola

Digital large screens as a community medium:
Interactivity and community relevance

Chapter twenty-three

E. O. Soola and Roseline Anekwe

Sensitising, conscientising and empowering communities of consumers and producers of multimedia products, through media literacy education