A WELCOME ADDRESS BY THE HONOURABLE MINISTER OF INFORMATION AND COMMUNICATIONS, PROFESSOR DORA N. AKUNYILI, CFR, AT THE O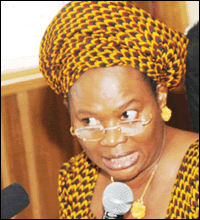 PENING OF THE EIGHTH BIENNIAL CONFERENCE OF AFRICA BROADCASTERS, AFRICAST 2010, HELD IN LADI KWALI HALL, SHERATON HOTEL AND TOWERS, ABUJA, ON TUESDAY 19TH OCTOBER, 2010
Protocols
I am extremely elated to stand before such a constellation of experts in various areas of broadcasting. Where opinion shapers and agenda setters gather in such great numbers, there can be no doubt that important discussions and revelations are in the offing. It is a great pleasure for me, therefore, on behalf of the good people of our great nation, to welcome you all, most warmly, to the eighth biennial Conference of Africa Broadcasters, Africast 2010.
The deep desire of Nigerian and indeed African broadcasters to challenge the lopsided world information and communication order, which sought to perpetually make us recipients of information, even about ourselves, provided the initial impetus for the establishment of the Africast Conference in 1996. Consequently, Africast aims to continually reappraise Africa's communication perspectives by providing a platform for the rubbing of minds by African broadcasters, and broadcasters about Africa from across the world.
It is part of the objectives of Africast to encourage inter-African cooperation in broadcasting, develop an African content and hardware market and stimulate the local manufacture of broadcast equipment.

To meet these expectations, the National Broadcasting Commission, the Nigerian Broadcast Regulator, carefully selects a suitable theme, and assembles qualified speakers who can help to give meaning to the exercise. From the Theme of the first edition in 1996, "Deregulation of Broadcasting in Africa," which addressed the wave of broadcast deregulation on the continent, to the theme of the seventh edition, Africast 2008, "Digitisation and the Challenges of Convergence for Africa Broadcasters", the conference has tried to define and set the agenda regarding issues of the moment.
In the same tradition, Africast 2010 is pushing further on the question of transition from analogue to digital terrestrial broadcasting, through the theme: Africa in Digital Transition: Options and Perspectives." In seven plenary sessions, the conference will entertain about twenty sessions and presentations approaching this issue from as so many angles.
We are pleased with the gradual development of the exhibition aspect of the conference, which provides our local broadcasters the opportunity to come into direct contact with some of the latest equipment, and simplify their process of getting the right facilities that would meet their needs.
We would, however, like to urge the manufacturers that come here to exhibit, to also consider investing in the local manufacture of broadcast hardware, particularly set-top boxes, which will play an important role after the switchover to digital terrestrial broadcasting. A factory in Nigeria can conveniently and profitably serve the whole of West Africa and beyond. The Market is certainly there.

I understand too, that a Master Class aspect has been added to the conference this year. It is getting better by the episode. While congratulating the National Broadcasting Commission for these efforts, I make bold to invite the Broadcasting Organisations of Nigeria, BON, Association of Cable Operators of Nigeria, ACON, and indeed all other broadcast related organisations to partner with the Commission to make Africast an industry platform, as it is done in every part of the world.
It is also my considered opinion that Africast should reach out to other international conferences on the African continent as well as in Europe, Asia and America, in order to create a cooperation arrangement that will help place the conference more firmly and prominently on the global broadcast conferences agenda.
And if the comments I am hearing from exhibitors and other participants are anything to go by, the NBC should consider making Africast an annual event, to help give it a permanent place on the calendars of stakeholders, like other similar famous conferences such as the NAB Show or the IBC.
Our attention to the efforts of the broadcast regulator in Nigeria is guided by the fact that we have such a large number of stations: 233 Public Radio and Television Stations, 123 Private Radio and Television Stations, 33 MMDS Stations and 13 DTH Stations. This also explains the vibrancy of the Nigerian broadcast media where every shade of opinion is given expression. I want to use this platform to praise their efforts and to urge them to continue to be professional and passionate for democracy, good governance and national development.
At this juncture, allow me to acknowledge that we have resource persons as well as participants at this conference from all across Africa, as well as from Europe, the United States of America, the Middle East and Asia. As I warmly welcome you all to this conference, I would like to share an open secret with you: Nigerians are very friendly and honest people, and Nigeria is an exciting place to visit and do business and to enjoy leisure. But do not take my word for it. Now that you are here, I urge you to interact with Nigerians and see things for yourselves.
And as you discuss salient issues relating to broadcasting in Africa in the next couple of days, I wish you fruitful deliberations and finally, safe return to your homes and families at the end of the conference on Thursday.
Once more, I warmly welcome you to Africast 2010, and to Nigeria.
Thank you for your kind attention.